Professional telemedicine
The Medistance medical practice managing, decision preparing, telemedicine platform is an affordable, easy-to-deploy, intelligent healthcare solution, both on-site and in the cloud. Medistance is unique in providing a complete service chain with devices and healthcare services in a business model via quality assured procedures, processes, mass market introduction and solution.

General Practitioner's Office
Improves patient safety and treatment outcomes, and effectively reduces medical and administrative costs. Automates health risk calculations and treatment processes.

Pharmacy
Improves patient safety and treatment outcomes, reduces medical and administrative costs through the use of appropriate medication and improving drug adherence.

Pharmaceutical Company
It improves patient safety, treatment outcomes and drug adherence while reducing administrative costs. Saves time, cost and labour through clinically validated remote monitoring and management.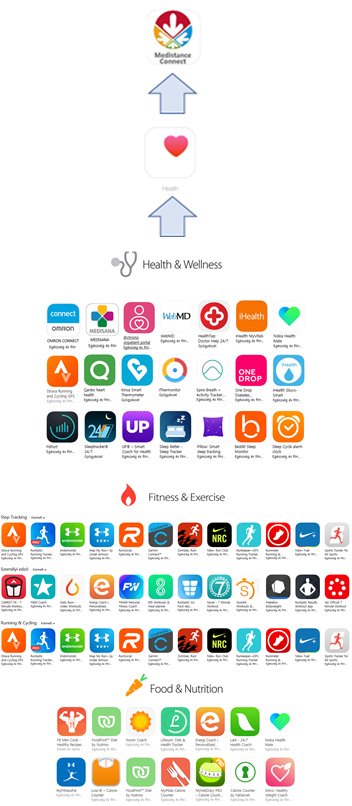 Personal health care
Numerous popular fitness and health apps can communicate with Medistance Connect through Apple Health and extract data from any app, measurement device you are currently using. We have already mentioned some, but it has not been discussed how to connect them or find the right applications.

One useful way is to simply tap on one of the categories in the Apple Health app and scroll down. At the bottom of the page, you'll see apps suggested for that category. For example, you will find nutrition like MyFitnessPal's Calorie Counter & Diet Tracker or some recipe apps.

There are two ways to upload data to Medistance Connect using Apple Health. Automatically through connected devices and applications or manually. Although automatic synchronisation is much more favourable and convenient, in some cases it is inevitable to enter or add data manually. For example, if you went on a run without a measuring device but don't want to lose the valuable kilometres.

For example, if you are tracking the use of an inhaler, it should be added manually. Find the appropriate data field in the Data tab of the Apple Health app, tap the small plus icon in the corner to enter the values. All of this is instantly synchronized with the Medistance Connect app and then with your personal profile on the high-speed SAP HANA backend.

The Medistance Connect app also receives data from smartphones' on-board motion sensors and GPS, so you can get more information about their steps, calories burned, distance, steps of stairs, just by taking your smartphones with you.

Through the Apple HealthKit API, the app provides synchronisation with various third-party apps and tools that record your movement, sleep, weight, body fat percentage, blood pressure, nutrition, body temperature, and a variety of other measurable data. The easy to use dashboard has the advantage of taking you directly to what you want to see and ignores everything else.

By tapping on each item, a new screen appears, giving you a breakdown of your most recently recorded data. For example, go to Activity to see a list of posts and how active you were on that day, month, year.
---
Medistance Connect for B2C purpose
Medistance Connect syncs 18 different vital signs, 14 types of activity, environmental and metabolic data, and records 34 nutritional, vitamin and mineral components
Medistance calculates 6 different health risk profiles of a user based on clinically validated medical protocols and, after encoding, synchronizes with the secure Medistance servers
Real-time tracking of end users and monitoring of health profiles of 3 or more (optional) family members when serving the whole family
Integration and real-time synchronization through Apple Health and real-time data from 70 health, wellness, fitness and nutrition apps
Integration with clinical validated medical devices (e.g. OMRON blood pressure monitors, body composition monitors), activity trackers and blood glucose meters for more accurate values and health risk assessment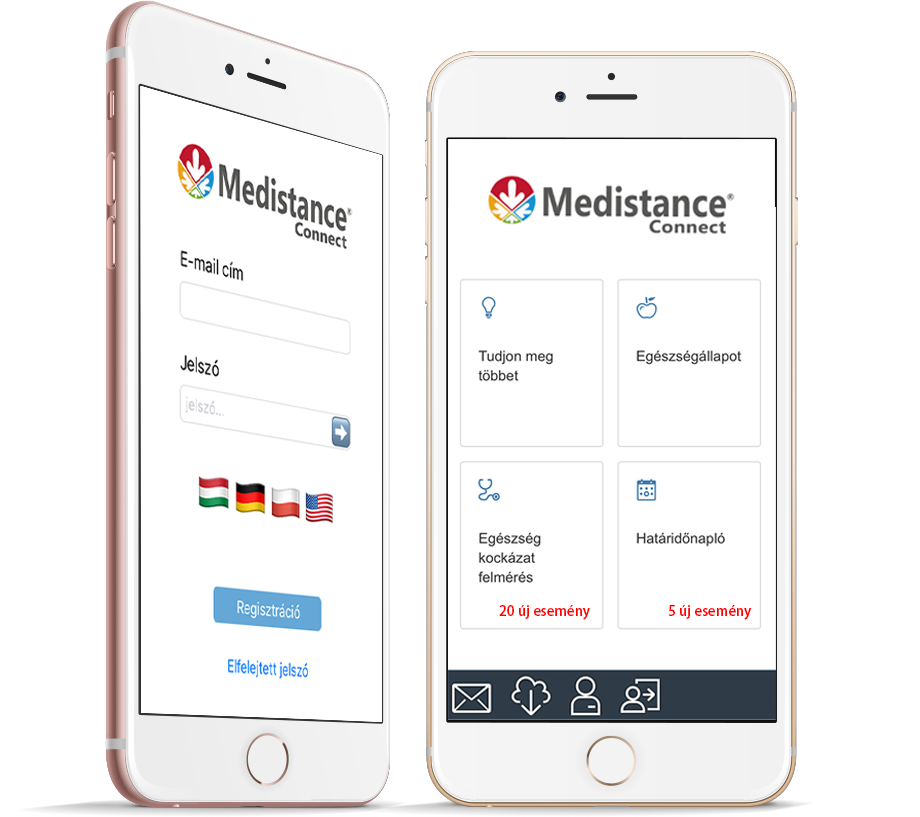 ---
User Reviews
"With Medistance, my health is under constant control. I can check my condition, save my results, which reassures me. The service itself is running smoothly and reliably." Balázs L.
"Unfortunately I struggle with obesity and high blood pressure. With the help of Medistance I record my measurement data so I can keep track of my health. I live a more conscious life since the day I started using the service." Csatári L.
"Medistance has brought more security, reliability and efficiency to my practice. With the system's procedures, I can now schedule my activities and resources, which was previously impossible." Dr. Ambrus A.
"We can remotely manage patients, even monitor our elderly patient's critical health values daily and we can also contact the competent persons, healthcare professionals and relatives to share that information." Kereszthegyi A.